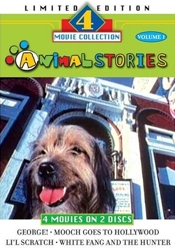 Classic Animal Stories Volume 1 2 Dvd Set Limited Edition (DVD)
Artist: Various Artists
Item Id: pds88529;2vd
UPC: 777966885292
Manufacturer: St. Clair

Temporarily Out Of Stock
Description
LIMITED EDITION DVD set, featuring 4 classic animal-themed family movies on 2 DVDs.
George! (Marshall Thompson, Inge Schoener)
Li'l scratch
Mooch goes To Hollywood (zsa Zsa Gabor, Vincent Price)
White Fang and the Hunter (Robert Wood, Pedro Sanchez)
This rare set is carefully re-mastered from original film prints for best picture quality.
Track Listing
GEORGE! (1970)
MOOCH GOES TO HOLLYWOOD (1971)
LI'L SCRATCH
WHITE FANG AND THE HUNTER (1975)