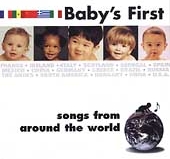 Songs From Around The World (CD)
Artist: Baby's First
Item Id: bfm44562
UPC: 777966445625
Manufacturer: St. Clair

Temporarily Out Of Stock
Description
Baby's First is a collection of carefully selected music designed to inspire and motivate Baby's developing mind. Whether it's time for a nap, or a bath, or a game of pat-a-cake, Baby's first has the music any baby (and you) will love.
Bring Out The Genius In Your Child. "Conclusive studies have clearly demonstrated that music is an integral ingredient to the mental development of infants. Music enhances cognitive and deductive skills and enriches the mind. Dr. Susan Hall - Pediatrician
This cd contains 18 great songs from different countries.
Track Listing
C'est si bon
Londonderry Air (Danny Boy), folk song
O sole mio, for voice & piano (or orchestra)
Amazing Grace
Djembi music from Senegal
Guantanamera, for guitar
Condor Pasa, traditional melody, El
Rose of China, The
Cucaracha, La
Hawaii Tattoo
Play Bouzouki
Es Para ti
Work(s): Popular Russian Melody
Bamba, song, La
Hungarian Dance
Rucksack Lied, Das
Gyan Anjana Nayane Dao (Bengal)
America the Beautiful (original title "Materna")