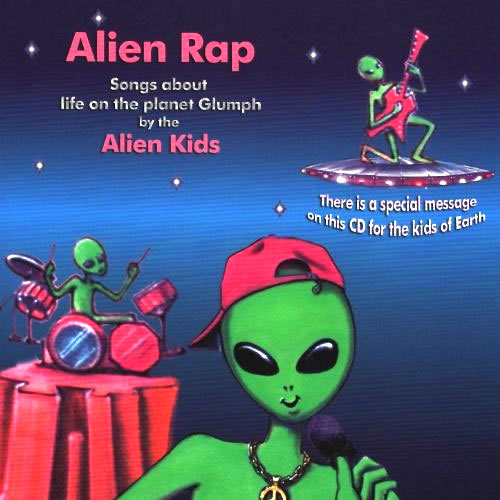 Alien Rap - Songs About Life On The Planet Glumph Sung To Cool Dance Beats By The Alien Kids (CD)
Artist: Gerald Jae Markoe
Item Id: ckp056
UPC: 092877005622
Manufacturer: Creative Kids Production / Astro Music

Temporarily Out Of Stock
Description
These fun and educational songs about life on the planet Glumph are rapped to cool dance beats by the Alien Kids!
Learn how Alien Kids develop super brains in Alien Schools
Discover how the aliens created peace on their planet after many centuries of war
Laugh about some of their strange customs, the cute animals that live on Glumph, Alien food and more!
Einstein said, "Imagination is more important than knowledge." If he is correct, then this is a very important album for kids--one that expands their imaginations through songs about life on the planet Glumph. Alien Rap is funny, entertaining, and educates kids to follow their own interests in order to lead a happy life. On Glumph, people worked just for money and didn't do what they loved. But once they began to do the jobs that they loved, Glumph became a happy planet!
Track Listing
My Best Friend Is An Alien Who Visits Me At Night
Alien Food
How To Make Alien Ice Cream
Way Waback (A Song In Their Own Alien Language, Glumpfish)
Alien Schools (How Alien Kids Develop Super Brains)
The Great Message (An Important Message from the Alien Kids to the Boys and Girls of Earth)
How To Make An Alien Burger
How To Make An Alien Shake
How To Make Alien Fries