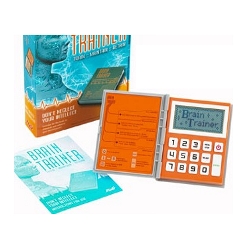 Sega Toys Brain Trainer - Stimulate And Enhance Your Mental Power (Game)
Artist: Sega Toys
Item Id: sm20007563
UPC: 778988735121
Manufacturer: Spin Master

Temporarily Out Of Stock
Description
Train, Maintain, Retain your brain!!!
Perfect for anyone 12 - 112 years of age, Brain Trainer is a unique state of the art palm sized module that will improve your mental agility and memory power by exercising your prefrontal cortex. The Brain Trainer is the ingenious invention of a celebrated Japanese neuroscientist called Dr Ryuta Kawashima. His Book about training the brain sold over a million copies and the resulting electronic device The Brain Trainer has been phenomenally successful.
Exercise for the brain to stimulate and enhance your mental power! A series of programmes have been designed to stimulate the frontal cortex to enhance your mental agility and memory retention. These consist of several numerical Tests, Counting Test, Focus Test and Memory Test - in which you are variously challenged to add, subtract, multiply as fast as you can, count as fast as you can, to add a series of numbers sequentially, and to memorize and recall as many numbers as possible.
Brain Trainer Features:
Brain Trainer features four training modes and they are numerical tests, counting tests, focus tests and memory tests.
Brain Trainer stores performance data so your progress can be monitored over a 12 month period.
Two levels of training available (Basic and Advanced)
Full instruction and training manual included.
For ages 12 - 112
Awards
Winner: Gift of the year