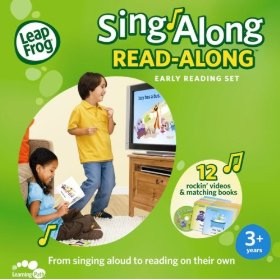 Leapfrog - Sing Along Read Along Early Reading Dvd + Books Set (Game)
Artist: Leap Frog
Item Id: 843120540
UPC: 843120540
Manufacturer: Leap Frog

Temporarily Out Of Stock
Description
Set the tempo for independent reading with rockin' songs, loveable characters and easy-to-read stories with the LeapFrog Sing Along Read-Along Karaoke Reading Set!
From singing along... Children build reading skills and confidence as they sing, laugh and read along with 12 animated musical stories.
… to reading solo! 12 matching storybooks reinforce the learning and inspire kids to read at home or on the go.
Learning Skills
Phonics Skills – Videos and books introduce children to short vowel sounds and how they combine with other letters to form words.
Word Recognition – Words are highlighted on-screen as they are sung, helping kids associate written words with their pronunciations and encouraging children to read aloud.
Reading Comprehension – Beginning readers discover story meaning as they make connections between the words they learn and the stories they see. Questions are included at the end of each book to encourage comprehension.
Music and Creativity – Children learning about creative self-expression as they sing and move to different music styles – from rock to hipo-hop
Includes:
DVD with 12 music videos
12 corresponding storybooks
Parent guide