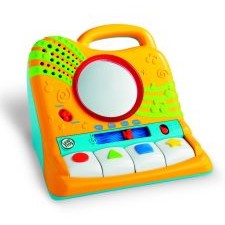 Leap Frog - Learn And Groove Shapes & Melodies Piano (Game)
Artist: Leap Frog
Item Id: 843110196
UPC: 843110196
Manufacturer: Leap Frog

Temporarily Out Of Stock
Description
Explore the keys to early learning with this bilingual learning piano! Babies can discover shapes and color names, listen to melodies or tap out a tune as they play on their tummies or sitting up. Lights and a mirror keep little ones engaged; two language modes let them explore in English and Spanish. Parents can connect to the online LeapFrog® Learning Path for customized learning ideas and insights from LeapFrog.
Learning Skills:
Shapes & Colors – Associating colors with shapes can help children remember names of colors & shapes
Fine Motor Skills – Piano encourages children to tap our tunes and helps develop fine motor skills
Music Exploration – Children explore and improvise with music and should effects, encouraging creative interaction and open-ended play.
Recommended Age: 6 months and up.