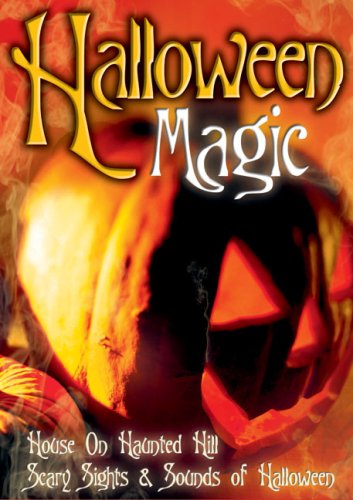 Halloween Magic Dvd With Bonus Movie - House On Haunted Hill (DVD)
Artist: Various Artists
Item Id: halvd18999
UPC: 777966189994
Manufacturer: St. Clair

Out Of Stock
Description
Spice up your All-Hallow's Eve with the mood-setting HALLOWEEN MAGIC. This title contains a series of creepy and spooky images, taken from a number of classic films and television programs, all set to an eerie and unsettling soundtrack of traditional Halloween noises.
Also included is the classic horror film HOUSE ON HAUNTED HILL.
Vincent Price has one of his juiciest roles in this haunted-house thriller as millionaire playboy Frederick Loren, who invites five guests out to a genuine haunted house, offering them each $10,000 if they spend the night. Elisha Cook Jr. plays one of the guests, a nervous alcoholic who has been in this house before and witnessed some terrible things. Mr. Loren's beautiful but treacherous wife (Carol Ohmart) is also present--and might be out to kill Frederick during the course of the evening; then again, he might be out to kill her. Severed heads, a skeleton, an acid vat, ghostly screams, and a noose that creeps around on its own and strangles unsuspecting victims are just some of the treats in a film that has been spooking delighted audiences on late-night TV for decades. Producer-director William Castle (THE TINGLER) claimed this was filmed in a process called Emergo, which meant that at a key moment a glow-in-the-dark skeleton on a wire was rigged to sail over the audience's heads. The skeleton is long since gone, but the goofy thrills remain in this classic tale, from a script by Robb White.
Starring: Vincent Price, Carol Ohmart, Richard Long, Alan Marshal, Carolyn Craig