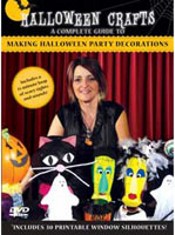 A Complete Guide To Making Halloween Party Decorations (DVD)
Artist: Halloween Crafts
Item Id: crg660004
Manufacturer: Newsound

Temporarily Out Of Stock
Description
This easy to follow, step-by-step instructional DVD will help you turn your home and yard into the best decorated and scariest one in the neighborhood. Includes printable templates for making thirty different window silhouettes of scary creatures. Also includes a fifteen-minute loop of scary sights and sounds.just the thing to set the perfect Halloween mood at your party!
Chapter 1: Introduction & Tools
Discover readily available household and store-bought items that can be made into Halloween decorations.
Chapter 2: Spooky Decorations & Crafts
Follow the step-by-step instructions to create eighteen scary decorations including spiders, ghost lamps, tombstones, .eyeball. flowers, and much more!
Chapter 3: Scary Foods
Learn how to make a variety of eerie and scary Halloween treats. Make scary looking drinks to quench your thirst, witches. fingers, eyeball treats, creepy brains, and much more! Oh so yummy, do you dare to taste them?
Total run time: approx 65 min. NTSC, Color, Stereo. Playable in all regions.