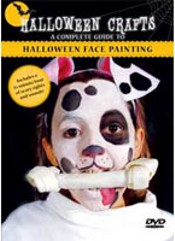 A Complete Guide To Halloween Face Painting (DVD)
Artist: Halloween Crafts
Item Id: crg660003
UPC: 723721182267
Manufacturer: Newsound

Temporarily Out Of Stock
Description
This easy to follow, step-by-step instructional DVD will teach you how to paint faces like a professional! Additionally, each DVD comes packed with ideas on how to create the perfect costume and accessories, using common household items, to complement your face painting. Also includes a fifteen-minute loop of scary sights and sounds.just the thing to set the perfect Halloween mood at your party!
Chapter 1: Introduction & Tools
Learn what types of paints are best to use, how to set up a comfortable work area, and what brushes are best to use to apply face paints.
Chapter 2: Face Painting & Costumes
Learn how to apply a variety of face painting designs and how to create the perfect costume to complete your Halloween look. Additionally, learn how to create realistic looking scars, bloody wounds, and cuts.
Chapter 3: Accessories
Learn how to create great accessories including witch and wizard hats, animal ears, and scary skin textures.
Total run time: approx 75 min. NTSC, Color, Stereo. Playable in all regions.