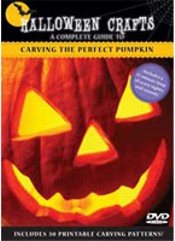 A Complete Guide To Carving The Perfect Pumpkin (DVD)
Artist: Halloween Crafts
Item Id: crg660002
Manufacturer: Newsound

Temporarily Out Of Stock
Description
This easy to follow, step-by-step instructional DVD will have you carving like a professional in no time. The DVD includes printable templates for carving over thirty different pumpkins. Also includes a fifteen-minute loop of scary sights and sounds.just the thing to set the perfect Halloween mood at your party!
Chapter 1: Tools & Designs
Learn what tools to use for pumpkin carving, ways to light the finished pumpkin, how to set up your workspace, and how to choose the best pumpkin for carving.
Chapter 2: Carving The Pumpkin - Basic Carvings
Learn how to prepare your pumpkin for carving, how to apply a stencil to the pumpkin, and how to carve the pumpkin.
Chapter 3: Pumpkin Painting & Advanced Carvings
Learn more advanced carving techniques, how to paint pumpkins, how to carve other vegetables into scary jack-o.-lanterns, and recipes for roasted pumpkin seeds.
Total run time: approx 60 min. NTSC, Color, Stereo. Playable in all regions.