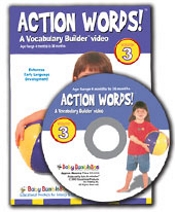 Bee Smart Baby Action Words! A Vocabulary Building Video Volume 3 (DVD)
Artist: Baby Bumblebee
Item Id: bbb700082
UPC: 692937000620
Manufacturer: Baby BumbleBee

Temporarily Out Of Stock
Description
This is an Award-winning Bee Smart Baby! Vocabulary Builder™ Series from Baby BumbleBee - Specialists agree that Speech and Language development are the best indicators of intellectual development in infants and toddlers. This ACTION WORDS! Vocabulary Builder Series builds on this premise by helping to boost a child´s speech and language development in a straight-forward, repetitive, and understandable format.
Bee Smart Baby™ Action Words!™ Volume 3
THE THIRD IN A SERIES OF 3 ACTION WORDS VOCABULARY VIDEOS. This DVD features 20 new words and targets the development of early language skills. The Vocabulary Builder™ Video Series, are the only videos available that aid in early language acquisition. Action Words!™ Volume 3 is lots of fun for both babies and parents. Babies and Toddlers will enjoy the colorful images and wonderful classical music. Parents can use the video to teach the words for everyday actions to their infant or toddler. These videos are a must have for parents interested in their child's development. Action Words!™ features the music of Tchaikovsky.
Words Featured in this Video: Stretch, Paint, Pull, Skate, Exercise, Lick, Whisper, Chew, Wiggle, Roll, Peel, Fly, Write, Turn, Wave, Smell, Close, Cry, Lift, Bang
Educationally Appropriate for the Following Children:
*Infants and young toddlers ages 6 to 36 months (Early on is the very best time to use the videos with your child to promote brain development and learning)
*Toddlers ages 36 months to 48 months who are late talkers, have limited vocabularies or are not yet speaking in sentences.
*Older Toddlers (over 3 yrs.) and Young Children with speech or developmental delays
*Non-Verbal Kids or with kids with limited speech diagnosed with a variety of developmental disorders including Autism, PDD, CP, Down Syndrome, Complications of Prematurity and other developmental delays.
EDITORIAL REVIEWS
The Bee Smart Baby series presents a series of simple, effective visuals -- accompanied by instructional techniques to be used by parents - that should make any child's learning and growing environment sharper and more rewarding. Bee Smart Baby: Action Words, Vol. 3 introduces small children to more essential "doing" verbs -- actions and activites -- all set to a light-classical sountrack. By linking the verbs to images and their printed-word appearance, maximum memorization skills can be absorbed by children four months to three years. ~ Michael Hastings, All Movie Guide
CUSTOMER REVIEWS
Excellent Education tool. My 14 month old loves this DVD. She is always saying and trying to imitate the action represented on this show. She is truly engaged every time I put it on. The only small problem I have is the with the action of "cry" where a few kids and babies cry. It's a bit heartbreaking to watch them. Other than that I am a satisfied customer and plan to purchase more of these Action Words! The DVD goes through many actions like pour, float, bang, fly, lick, chew, cry, wiggle, roll, and whisper
"My husband and I watch the videos with our baby Katie. Katie was 12 months old when she started watching Volume 1 and 15 months old with Volume 2. We all enjoy watching them and are amazed at how quickly Katie's vocabulary is increasing day by day. Katie Seems to interact with these videos a great deal more than with the other early development videos..." Anita from Columbus, OH
Awards
A Parenting Magazine Video Magic Award Winner