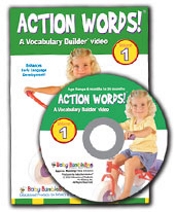 Bee Smart Baby Action Words! A Vocabulary Building Video Volume 1 (DVD)
Artist: Baby Bumblebee
Item Id: bbb700062
UPC: 692937000620
Manufacturer: Baby BumbleBee

Temporarily Out Of Stock
Description
This is an Award-winning Bee Smart Baby! Vocabulary Builder™ Series from Baby BumbleBee - Specialists agree that Speech and Language development are the best indicators of intellectual development in infants and toddlers. This ACTION WORDS! Vocabulary Builder Series builds on this premise by helping to boost a child´s speech and language development in a straight-forward, repetitive, and understandable format.
Bee Smart Baby™ Action Words!™ Volume 1
This is a developmental video for babies and toddlers. Volume 1 feature 20 new Action Words (Verbs), and helps promote the development of early language skills. Each Action Words! video presents 20 or more verbs and also help to encourage your child to speak in phrases or sentences.. Action Words!™ Volume 1 features the music of Beethoven. Bee Smart Baby™ Action Words!™ Volume 1 is great fun for your baby or toddler. From "jump" to "sleep," different verbs are pictured onscreen and accompanied by narration that introduces and repeats each new word. Infants can watch their peers at play and learn though engaging visuals. For example, separate clips of a toddler and a horse walking by are used to illustrate"walk."
Words Featured in this Video :Eat, Sleep, Shake, Touch, Sit, Read, Smile, Play, Draw, Crawl, Drink, Jump, Kick, Pet, Walk, Clap, Bounce, Brush, Hug, Tickle
Educationally Appropriate for the Following Children:
*Infants and young toddlers ages 6 to 36 months (Early on is the very best time to use the videos with your child to promote brain development and learning)
*Toddlers ages 36 months to 48 months who are late talkers, have limited vocabularies or are not yet speaking in sentences.
*Older Toddlers (over 3 yrs.) and Young Children with speech or developmental delays
*Non-Verbal Kids or with kids with limited speech diagnosed with a variety of developmental disorders including Autism, PDD, CP, Down Syndrome, Complications of Prematurity and other developmental delays.
Editorial Reviews
The Bee Smart Baby series presents a series of simple, effective visuals -- accompanied by instructional techniques to be used by parents - that should make any child's learning and growing environment sharper and more rewarding. Bee Smart Baby: Action Words, Vol. 1 introduces small children to essential verbs, linking them to images and their printed-word appearance for maximum memorization. Michael Hastings, All Movie Guide
Awards
A Parenting Magazine Video Magic Award Winner