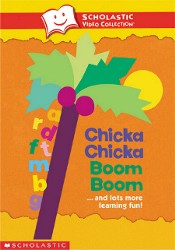 Chicka Chicka Boom Boom And Lots More Learning Fun With Catchy Tunes & Charming Stories! (DVD)
Artist: Scholastic Video Collection
Item Id: nvg107171
UPC: 0545078741
Manufacturer: Scholastic Video Collection

Temporarily Out Of Stock
Description
The fun never stops with these catchy tunes and charming stories. This amazing DVD features video adaptations of award-winning, classic children's picture books. Beloved stories come alive in a celebration of friendship, learning and growing up. Recommended for kids ages 2-7
Rosie's Walk
A clumsy fox can't quite catch an unsuspecting hen on this fun-filled walk through the farm. By Pat Hutchins
The Caterpillar and the Polliwog
The Caterpillar and the Polliwog finds two animals puzzling over the changes they go through as they grow up.
Chicka Chicka Boom Boom
In Chicka Chicka Boom Boom, the letters of the alphabet have a race up and down a coconut tree, with comical results.
Trashy Town
Mr. Gilly revels in the joys of collecting the trash in Trashy Town until his truck is ful of glorious garbage.