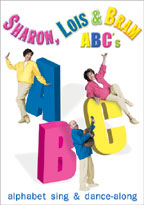 Abc's - Alphabet Sing And Dance Along (DVD)
Artist: Sharon, Lois & Bram
Item Id: 42107
UPC: 801464210796
Manufacturer: Casablanca Kids

Temporarily Out Of Stock
Description
"Costumed characters, clever graphics, and a live audience of kids who sing along all play a part as Sharon, Lois and Bram - the award-winning trio of troubadours belts out two dozen deliciously catchy alphabet songs"
The alphabet comes to life in song and animation in this Live in-Concert Special. Beloved Canadian children's entertainers Sharon, Lois, and Bram are back to bring the alphabet to life for your child. Combining songs and animation, the cheery trio lead a series of sing-alongs on songs like "H is for Ham & Eggs," "N is for the Name Game," and more. The whole family will want to join on this program, which is so much fun, your children will not even notice that they're learning! Includes a song or rhyme for every letter of the alphabet.
Special bonus features include: narrated photo galleries, U-ME technology that allows you to access coloring sheets, lyric pages, recipes and crafts; and allows you to play the dvd like a cd.