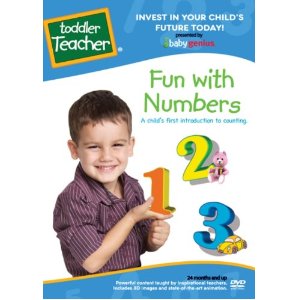 Fun With Numbers - A Child's First Introduction To Counting, Taught By Teachers (DVD)
Artist: Toddler Teacher
Item Id: pe01033
UPC: 815720010334
Manufacturer: Baby Genius / Pacific Entertainment

Temporarily Out Of Stock
Description
Baby Genius presents Fun With Numbers - an education DVD that puts emphasis on fun. Kids learn to enjoy counting with teddy bears, dogs, cupcakes, ducks and other colorful things.
Unleash your child's potential. Fun With Numbers provides parents with the tools they need to help their children build an educational foundation that stimulates their curiosity and enhances their learning skills. This DVD will help give your child an educational foundation for a head start on their first day of school.
Taught by inspirational teachers. Perfect for ages 24 months and up.
Colorful animation
• Catchy tunes for lively sing-a-longs
• Reading corners
• Fun quiz segments
• Search and find segments
• Vocabulary builders