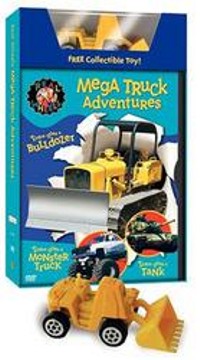 Mega Truck Adventures W/ Free Collectible Toy (DVD)
Artist: Real Wheels
Item Id: whv51898t
UPC: 85365189829
Manufacturer: Warner Brothers

Temporarily Out Of Stock
Description
Climb aboard and strap yourself into some of the mightiest machines around, including the granddaddy of them all - TANKS! In this collection of powerful episodes, DAVE plays soldier, construction worker and monster truck driver - and YOU can be part of the fun too! Feel the earth move when a bulldozer makes its way through a construction site! Fly through the sky daredevil-style in a monster truck! Then uncover the secrets hidden in a military jeep! And this DVD features fantastic extras like an interactive vehicle activity center where YOU get to drive the machines! So assume your identity and get set for a riveting ride that will leave you breathless!
Episodes include: "There Goes a Bulldozer," "There Goes a Monster Truck" and "There Goes a Tank."
Actual toy may vary from photo.