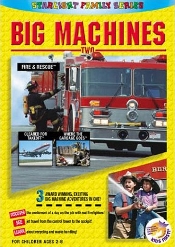 Big Machines Two (volume 2) By Fred Levine And Little Hardhats (DVD)
Artist: Fred Levine
Item Id: str2366
UPC: 808630236628
Manufacturer: LittleHardHats

Description
Fred Levine and Little Hard Hats present the second edition of the BIG MACHINES series. Big Machines 2 teaches children about fire engines, jet planes, and waste handling. Also included is a segment on the importance of recycling. The three-part volume features the titles "Fire And Rescue!," "Cleared For Takeoff!," and "Where The Garbage Goes!"
Kids get a chance to:
DISCOVER: The excitement of a day on the job with real firefighters!
SEE: Jet travel from the control tower to the cockpit!
LEARN: About recycling and waste handling!
Awards
"Top Ten Best all time videos for preschoolers and toddlers" - Parents Magazines Guide To The Best Family Videos