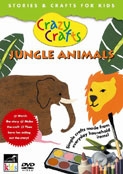 Jungle Animals (DVD)
Artist: Crazy Crafts
Item Id: 44012
UPC: 801464401293
Manufacturer: Casablanca Kids

Temporarily Out Of Stock
Description
The "Crazy Crafts" series from Casablanca Kids shows that, with a few common household items and a little imagination, you can create all sorts of homemade toys! Host Maggie and her raccoon pal Jackson focus each episode on a story, for which they create the characters. The DVD includes an activity guide and detailed instructions for the crafts.
Show #1: THe Lion and the Rabbit
All the jungle animals are scared of a fierce lion, except a little rabbit. He has a clever plan to quiet the beast. Crafts include a lion, a rabbit, a monkey and a rhinoceros.
Show #2: The Spotted Zebra
iving on the Savannah of Africa is a spotted zebra. None of the other zebras like him, because he's different. So with the help of a sneezing monkey, the spotted zebra searches for a new home. Crafts include the spotted zebra, stripped zebras, the monkey, giraffe and leopard.
Show #3: The Great Inbetween
A large elephant and a tiny mouse are best friends, but because they are so different in size they think they should have a friend who is inbetween. Crafts include the elephant, mouse, hummingbird and deer.