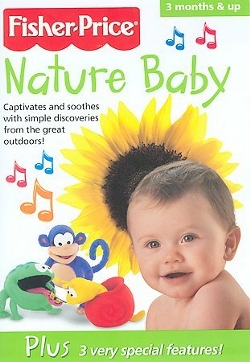 Nature Baby - A Baby Developing Collection W/ Bonus 24 Page Playguide Dvd (DVD)
Artist: Fisher Price
Item Id: fp15462
UPC: 012236107330, 881573490005
Manufacturer: Lions Gate Entertainment

Temporarily Out Of Stock
Description
NATURE BABY is part of the popular Fisher-Price baby series - Baby Development Collection. This program will teach your baby about the natural world that surrounds us, from animals and plants to birds and insects. All children love nature and this program will help to guide their curiosity. Winter, spring, summer and fall - Nature Baby explores them all! The beauty of the changing seasons comes to life on your screen, introducing baby to sights, sounds and wonderful experiences from the world outside. The program features live footage of lots of babies, children, moms and dads. Three friendly puppets - Taa, Dee, and Ed - are nature guides through this journey of exploration. Their warmth, humor and charming personalities make this show lots of fun to watch! BONUS: This DVD includes a 24-page playguide book - full of games and activities! 3 month & up
Special Features
*Learn about Developmental Milestones Throughout Baby's First Year.
*Join in Fun Activities with Other Moms and Babies During a 10- Minute Play Group Segment
*Enjoy a Delightful, Five-Minute Little People Clay Animation Episode; "Season of Friendship."
EDITORIAL REVIEW
Help babies explore their world with Nature Baby, an interactive program that stimulates children in their first 12 months in another installment in Fisher Price's Baby Development Collection. With the help of lovable puppet characters Taa, Dee and Ed, toddlers will be exposed to images and sounds that open up their experiences with nature and other cultures. ~ Jeremy Wheeler, All Movie Guide
CUSTOMER REVIEWS
I have tried to very much limit the video and TV watching of my 10 month old, but we were given this DVD as a gift, and I admit we've watched it more than a few times! I really do like it. It's very simple---it has a musical part, usually with a child involved, and then a part with 3 puppets, who talk in baby-like language, exploring an instrument like a trumpet or a drum. The songs are very pretty and not the typical kid fare---one of them is "Hark, the Birds Have Come Again" or something like that, which I had never heard before hearing it here, but it's a nice song, and we see birds during its singing, along with seeing the singers. I checked out the extras on this---one part is a playgroup with simple ideas for activities, which I did along with my daughter. It doesn't take the place of a real playground, of course, but there were some good ideas! If you are planning on getting a baby DVD, I think this would be a good place to start.