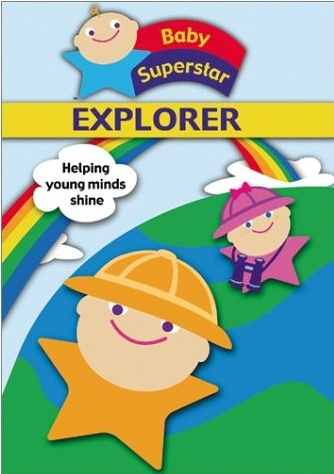 Baby Superstar: Explorer (with Audio Cd) (DVD)
Artist: Baby Superstar
Item Id: bab0142dvd
UPC: 014381014228, 0972298142
Manufacturer: Image Entertainment

Temporarily Out Of Stock
Description
Baby Superstar EXPLORER takes children on an exciting journey of land, sea and space, where they will be delighted by vivid animal footage, imaginative toys and incredible space photography. Featuring classical favorites performed by the Royal Philarmonic Orchestra, your child will be engaged by the world's greatest music and will love watching this vide over and over. Perfect for ages 3-24 months
EDITORIAL REVIEW
Created in consultation with child development and infant-learning experts, Baby Superstar: Explorer blends classical music, animation, and live-action photography in an appealing program that facilitates sensory, language, emotional, and cognitive development in children ages 3 to 36 months. Explorer focuses on land, sea, and space; juxtaposing footage of stuffed animals, toys in action, animation, live animals in natural settings, authentic space shuttle launches, and real space photography. Rich classical music like Handel's Water Music and Tchaikovsky's Nutcracker Suite, performed by the Royal Philharmonic Orchestra, accompanies the visual images. Baby Superstar presentations are similar to Baby Einstein programs in that both combine animation, toys, and classical music. What makes Baby Superstar different, and infinitely more appealing to adult viewers, is the real-life photography and the use of full orchestral renditions of the classical music rather than the synthesized, heavily stylized arrangements presented by Baby Einstein. The DVD includes an audio compact disc of the musical selections as well as a parent guide that features video of psychologist Joyce Brothers and pediatrician David Namerow offering advice on topics like stimulating brain development, separation anxiety, and common physical ailments in infants. Twenty percent of Baby Superstar's profits will be donated to children's charities.
CUSTOMER REVIEWS
Based on a "Land, Sea, Space" theme, this is a wonderful DVD with footage of wild animals, fish and astronauts, etc. interspersed with "animation" shots of the corresponding toy animals/space ships, etc. All of it is set to classical music which my daughter absolutely loves! I highly recommend this DVD and the related Baby Superstar DVDs. They're more entertaining than the Baby Einstein DVDs for my daughter.
Hello all, I've been a mom twice before so I know what it's like to try and find the right things for your toddler. I am now on my third child, Christopher, who is 5 months old. What I've learned from my previous two kids is that they are all different. As much as my friends tell me, or what the experts tell me, a parent is the one who knows their child the best. My 5 month old enjoys watching the Explorer video very much. So if your child enjoys animals and the outdoors then these Baby Superstar videos will definitely be a good investment.
Awards
Parenting Magaine's Video of the Year Award