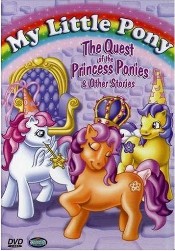 My Little Pony - The Quest Of The Princess Ponies And Other Stories (DVD)
Artist: My Little Pony
Item Id: rhi971617
UPC: 603497161720
Manufacturer: Rhino

Temporarily Out Of Stock
Description
First Time on DVD! Two thrilling and Magical Adventures from season Two of My Little Pony
The Quest of the Princess Ponies
The magical forces of Ponyland are disturbed when Lavan steals the Princess Ponies' magic wands. As the Jewel Desert threatens to consume Dream Valley, the Princess Ponies band together with the Bushwoolies, G'nash, Spike, the Ice Orgs, and even Sludge to recover the wands and find the Heart of Ponyland, for only there can the balance of magic be restored. But will the succeed in time?
The Golden Horseshoes
When Mimic becomes afflicted with a mysterious illness, Megan and the ponies embark on a series of odd adventures to find four golden horseshoes with the power to heal the ailing unicorn.