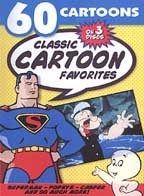 62 Classic Cartoon Favorites - Superman, Popeye, Casper - 3 Dvd Set (DVD)
Artist: Various
Item Id: pds88199;3vd
UPC: 777966881997
Manufacturer: St. Clair

Temporarily Out Of Stock
Description
Sixty two classic cartoons are collected here together. On the first part are assorted episodes of the Fleischer-Famous Studios SUPERMAN series, produced during the height of the Second World War. The second section features 24 adventures of POPEYE THE SAILOR, also a Fleischer-Famous product, made between 1933 and 1957. Finally, the third part contains cartoons with beloved characters like Casper the Friendly Ghost, Woody Woodpecker, Little Lulu, and more. Cartoons from the golden age of American animation are collected in CLASSIC CARTOON FAVORITES.
Superman
Faster than a speeding Bullet! Mort powerful than a locomotive! Able to leap tall buildings at a single bound! Up in the sky - look! It's a bird! It's a plane! It's Superman! A collection of vintage favorites from everyone's most beloved super hero.
Popeye
"I'm Popeye the Sailor Man, I'm strong to the 'Finch', `cause I eats me spinach." The good-natured underdog with a love of spinach first appeared back in 1929 in Elzie Segar's comic strip, "Thimble Theatre". Although he started out as a minor character, Popeye quickly became one of the most widely recognizable characters in animation history.
Classic Characters
Casper and his ghostly trio of uncles, Fatso, Stinkie and Stretch, are up to their usual antics in this collection of classic cartoon characters. You'll also see Little Lulu, Woody Woodpecker, Mighty Mouse, Rageddy Ann and so many more!