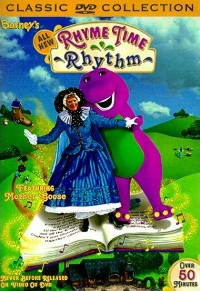 Barney's Rhyme Time Rhythm - Classic Collection (DVD)
Artist: Barney
Item Id: 2827
UPC: 45986028273
Manufacturer: Barney Home Video

Temporarily Out Of Stock
Description
No matter what a toddler's parent does, Barney is inescapable. No matter how cringingly irritating adults find Barney's goofy voice, he captivates his youthful audience. Barney's Rhyme Time Rhythm is no exception. The video's setting finds a frustrated Emily trying to pen a poem for school. Stepping in to help are the magical purple dinosaur and a host of friends, including Mother Goose herself. The video is an effective introduction to Mother Goose rhymes, songs, and stories (which, mercifully, are not rewritten in typical Barney fashion). As in most Barney fare, there's an emphasis on cheerfulness, creativeness, friendship, and affection. It's nice that the basic premise encourages children to read and write--especially their own rhymes. The many songs include "Did You Ever See a Lassie?" as well as "London Bridge," "Humpty Dumpty," "Baa Baa Black Sheep," "Little Boy Blue," "Little Bo Peep," "The House That Jack Built," "Little Miss Muffet," "Three Little Kittens," "The Old Lady in the Shoe," and "Old King Cole."
DVD Special Features:
1 "Rhyme Time Rhythm" Video (In both English and Spanish)
2 "What Can It Be?" Read Along (32 page electronic book featuring character voices)
3 "Rhyme Time Rhythm" Sing Along (15 videos songs in both English and Spanish)
4 "Rhyme Time Rhythm" Rhyme Along (17 video rhymes in both English and Spanish)
5 "Mother Goose Medley"
6 "Rhyme Time Rhythm" 8 Interactive Games
7 16 Page, Mother Goose Rhymes Booklet
8 Chapter Stops
9 DVD-ROM Web Links
10 Sneak Preview of 4 Videos and 12 Songs featuring "The Wiggles"
11 Behind the Scenes with Barney, Baby Bop, BJ and the cast
12 Preview 16 Other Barney Videos
13"What We Learned Today" section highlighting educational components