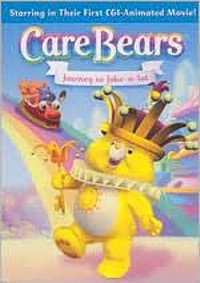 Care Bears - Journey To Joke A Lot (DVD)
Artist: Care Bears
Item Id: 16158
UPC: 12236161578
Manufacturer: Lions Gate Ent.

Temporarily Out Of Stock
Description
A joke gone awry finds Funshine Bear looking for a home better suited to his sense of humor -- much to his friend Tenderheart's dismay -- in this latest installment of the popular Care Bears series. Dismayed that his friends cannot appreciate his sense of humor, Funshine Bear leaves Care-a-lot to travel to Joke-a-lot so he can share his jokes with some new friends. Saddened at his friend's departure, Tenderheart launches a search for Funshine Bear that will find the merry jokester forced to choose between a land where fun is elemental or a comfortable home with friends who care.
Track Listing
Care-a-lot
The Rainbow Carousel
Crash Landing
Funshine's House
Make Them Laugh
A Wild Ride
Long Live King Funshine!
The Joke-a-Lot National Anthem
Searching for Funshine
The Royal Treasury
The Coronation
What Kind of King Am I?
Funnybone's Plan
Stealing the Scepter
A New King
Farewell to Joke-a-Lot