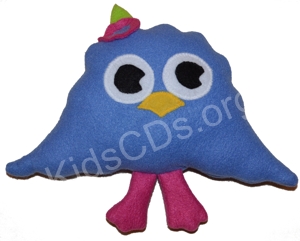 Zee Stuffed Toy Soft Plush (Toy)
Artist: Noggin Tv
Item Id: zee

Temporarily Out Of Stock
Description
Nick Jr's Noggin© TV famous characters Moose and Zee sing the ever-so-popular "Everywhere I Go" song and "Can't Stop Rhymin Blues" song, loved by children and adults worldwide. Despite the fact that their fame on Nickelodeon Network only lasts for 10 seconds every half an hour, Moose A Moose and Zee have become the most talked about cartoon character friends. Sadly, Noggin© does not make these characters available as toys.
Well, you might have just found a perfect Zee soft plush stuffed toy. While our Moose and Zee toys do NOT sing, here is your opportunity to own a completely hand crafted Zee look-alike stuffed toy character. This plush toy will light your child's eyes, and will become irreplaceable. Make sure to have your camera ready when you present this one to your child - they WILL BE AMAZED!!!
Product information:
While our Moose A Moose and Zee toys do not sing, we are confident that our product is the best you can find. Zee is completely hand-made, one at a time, of premium grade fleece material that is super soft, and made so that babies/kids can comfortably sleep with it - soft and cuddly. Zee is 100% fleece. Measures 8". Stuffing is 100% hypo-allergenic premium grade polyester fiberfill. Hand/spot washing is recommended. Must be air dryed.
Each character is made-to-order by one of our professional in-house crafters, so please allow approximately 7-8 bus. days for your custom toy to ship. We also offer rush processing service for a small fee. (3-4 days to ship) For Rush orders, please select "RUSH" shipping method at check-out.
***If you are interested in both Moose and Zee soft toys, or Moose A Moose animal only, please click on appropriate item link below. We have them available individually, or as a set at a reduced price.
DON'T FORGET! This toy ships FREE with our Free Economy Shipping Offer
The original Moose A Moose and Zee characters are copyright of Noggin©