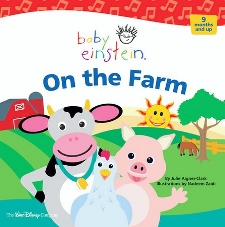 On The Farm Cd And Board Book Set (CD)
Artist: Baby Einstein
Item Id: dix61188
UPC: 050086118823
Manufacturer: Walt Disney Records / Bue

Temporarily Out Of Stock
Description
Read and sing-along with this value-priced book and CD set. A delightful journey of discovery for you and baby to share! The sturdy, durable book is just right for little hands to hold. Meanwhile, the CD brings each page to life with narration, sound effects and cheerful music that ends with a clap along, dance-along Old MacDonald sing-along for even more playtime exercise and learning fun! By Julie Aigner-Clark
Features:
Introduces baby to the fun of farmyard animals
Eight charming poems narrated with sound effects and music
18-page, colorfully illustrated board book and CD
Gift Packaged
Age: 9 months +
Customer Reviews
My one year old loves this book and always brings it to us to read. It helped him learn his animals and the sounds that they make.
My 3-year-old grandson has been enjoying his copy since he was one. It is enjoyable on many levels and teaches many skills.
The board book that comes with this has wonderful, bright, fun illustrations that my son (and I!) just love. The companion CD is fun for occasional use but not necessary if you're willing to read the book with your toddler (though it does score points for helping put my son right to sleep on fussy long car trips!)
Track Listing
Pigs
Goats
Chickens
Horses
Cats
Cows
Sheep
Rooster
Old Mac Donald Sing-Along