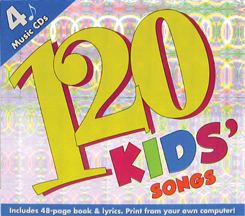 120 Kids Silly, Party, Playtime, Learning Songs - 4 Full Length Cd Music Bonus Set [enhanced] (CD)
Artist: Twin Sisters
Item Id: twin3519cd
UPC: 718451351922, 9781599221069, 1599221063
Manufacturer: Twin Sisters

Temporarily Out Of Stock
Description
This best-seller is packed with nearly 4 hours of music and fun!
30 Silly Songs: Children are guaranteed to S-M-I-L-E with this collection of 30 silly, goofy nonsense songs!
30 Party Songs: Move and wiggle, laugh and play with this collection of 30 party songs and musical games!
30 Playtime Songs: Young and old will sing along with these 30 traditional and all-new children's songs!
30 Learning Songs: Learning is as easy as singing great new songs. Learn the alphabet, letter sounds, and days of the week, colors, shapes, numbers, animal sounds, personal safety rules, and more!
BONUS! The Enhanced Music CD includes the lyrics PDF and a 48-page activity book PDF to print from your own computer: 30 Silly Activities, 30 Party Games, 30 Playtime Games, and 30 Learning Activities