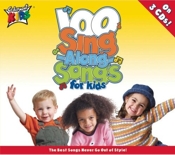 100 Sing A Long Songs For Kids - 3 Cd Box Set With Lyrics (CD)
Artist: Cedarmont Kids
Item Id: sme180535
UPC: 84418053520
Manufacturer: Sony/BMG

Temporarily Out Of Stock
Description
The best songs never go out of style!!
100 all-time favourite children's songs, performed by the Cedarmont Kids!Packaged together on 3 full-length CDs at one special low price, this 3 CD Set is perhaps the greatest collection of children's music ever assembled.
Kids and parents will love this special package of Cedarmont Kids music. Jam-packed with best-loved classic children's songs, this live-action collection offers hours of wholesome interactive fun.
Lyrics booklets included with cds.
Track Listing
Wheels on the Bus
Do Your Ears Hang Low?
Joshua Fought the Battle of Jericho
Wise Man and the Foolish Man
Alaphabet Song (The ABC Song)
Polly, Put the Kettle On
Rocka My Soul
Skinny Marinky Dinky Dink
Eensy, Weensy Spider
Dry Bones
More We Get Together
Polly Wolly Doodle
If You're Happy and You Know It
Who Did (Swallow Jonah)?
Six Little Ducks
Fingers, Nose, And Toes
Baa, Baa, Black Sheep
Michael Finnigan
Bear Went Over the Mountain
Roll Over
S-M-I-L-E
Jack and Jill
Who Built the Ark?
Bingo
John Jacob Jingleheimer Schmidt
Get on Board
This Old Man
Mary Had a Little Lamb
Deep and Wide
Here We Go 'Round the Mulberry Bush
Swing Low, Sweet Chariot
Old McDonald Had a Farm
Looby Loo
There's a Hole in the Bucket
Bluebird, Bluebird
School Days
He's Got the Whole World in His Hands
I Bought Me a Cat (The Barnyard Song)
Shoo, Fly Don't Bother Me!
Little David (Play on Your Harp)
She'll Be Coming 'Round the Mountain
Sarasonda
America, The Beautiful
One Little Brown Bird
Down by the Riverside
Farmer in the Dall
I've Got Peace Like a River
Paw-Paw Patch
Are You Sleeping?
Oats, Peas, Beans and Barley Grow
Hinges
Michael, Row the Boat Ashore
Ants Go Marching
Oh Where, Oh Where Has My Little Dog Gone?
Grand Old Duke of York/A'hunting We Will Go Medley
Oh, Dear! What Can the Matter Be?
Where Is Thumbkin?
Pop! Goes the Weasel
Down by the Station
London Bridge
Ring Around the Rosy
Muffin Man
Skip to My Lou
Row, Row, Row Your Boat
Head, Shoulders, Knees and Toes
Old Gray Mare
Be Kind to Your Web-Footed Friends
Yankee Doodle
I'm Bringing Home a Baby Bumblebee
Ezekial Saw the Wheel
When the Saints Go Marching In
Animal Fair
Bill Grogan's Goat
Star-Spangled Banner
My Bonnie Lies Over the Ocean
I've Been Working on the Railroad
Clap Your Hands
Twinkle, Twinkle, Little Star
I Shall Not Be Moved
There's a Hole in the Bottom of the Sea
Lazy Mary Will You Get Up?
I Love the Mountains
Swing
Battle Hymn of the Republic
Boom Boom, Ain't It Great to Be Crazy
Bicycle Built for Two (Daisy Bell)
Over in the Meadow
Birdies in the Treetops
Simple Gifts
It's Raining, It's Pouring
You're a Grand Old Flag
We Gather Together
Little Wheel Turning in My Heart
Rig-A-Jig-Jig
Mules
It Ain't Gonna Rain
Little Cabin in the Wood
Two Little Blackbirds
John Brown's Baby
America
Customer Reviews
Great music collection ★★★★★
These CDs are fantastic! I hadn't heard or thought of most of these songs in ages, but pretty much every fun childhood song I can think of is included! The kids' singing is excellent, and my little boy already loves to listen to them!
By Proud new mommy - Reviewed: 2009-05-29 00:07:06