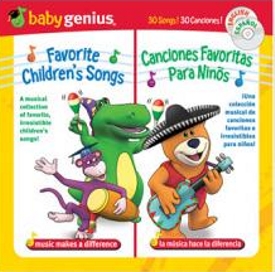 Favorite Children's Songs / Canciones Favoritas Para Ninos 2 Cd Set (CD)
Artist: Baby Genius
Item Id: pe00158
UPC: 859395001587
Manufacturer: Baby Genius / Pacific Entertainment

Temporarily Out Of Stock
Description
Introduce your child to a new language with music!
Add fun to your child's playtime with these favorite, irresistible children's songs. This collection teaches little ones familiar childhood tunes they will cherish for a lifetime in both English and Spanish.
Disc 1 includes 15 songs in Engish and Disc 2 has the same songs in Spanish! Over 1 hour of music and fun!
Track Listing
She'll Be Coming Around the Mountain
Pop! Goes the Weasel
The Wheels On the Bus
The Farmer in the Dell
Yes! We have No Bananas!
No More Monkeys Jumping on the Bed
The Itsy, Bitsy Spider
I've Been Working On The Railroad
Shoo! Fly
Head, Shoulders, Knees and Toes
B-I-N-G-O
Twinkle, Twinkle Little Star
One, Two, Buckle My Shoe
Do You Know The Muffin Man?
Rain, Rain Go Away
Alrendedor de la montaña
Salta el payaso
El camión escolar
El en el valle
¡Sí ya no hay más bananas!
Ya no más changuitos saltando en la cama
La arañita
Trabajando en los rieles
Mosca, vete de aquí
Cabeza, Hombros, Rodillas y Pies
B-I-N-G-O
Estrellita que brillas más
Uno, dos camina veloz
Conocen al hombre mazapán
Lluvia, vet ya