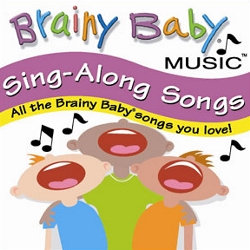 Brainy Baby Sing Along Songs (CD)
Artist: Brainy Baby
Item Id: bb30012
UPC: 821408300123, 1931959420
Manufacturer: Brainy Baby

Temporarily Out Of Stock
Description
All the Original Brainy BabyŽ Songs your children love to sing compiled on one great CD!
26 Letters, Name Your Shapes, ABCs, Counting to Twenty, and Old MacDonald are also featured on videos from Brainy BabyŽ.
Plus 6 fun new songs will introduce Manners, Numbers, Seasons, and more. (And we bet you'll find yourself singing along before you know it!)
CUSTOMER REVIEWSThis is a wonderful CD for your toddler! In 11 quality songs it covers the main aspects of the skills you want your toddler to be learning! Sight, colors, movement, sounds, shapes, numbers, animals, seasons and letters are the main skills the CD teaches and that is more then enough for my baby! My daughter adores this CD and I do as well! It isn't as annoying as some other baby CDs we have and it is certainly one of the more educational ones! I highly recommend this CD if you are looking for music that is both educational and fun for your little ones!
Awards
*Dr. Toy's 100 Best Children's Products
*Dr. Toy's 10 Best Audio Products
*Parents Choice
*Kids First coalition
Track Listing
ABCs
I Spy Something...
Body in Motion
Listen!
Old MacDonald
Mind Your Manners
Name Your Shapes
Counting to Twenty
Bingo
Seasons Change
26 Letters