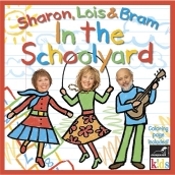 In The Schoolyard (CD)
Artist: Sharon, Lois & Bram
Item Id: cascd42123
UPC: 801464212328
Manufacturer: Casablanca Kids

Temporarily Out Of Stock
Description
Great songs! Great Rhymes! Great Chants!
When it was first released in 1981, Sharon, Lois & Bramís IN THE SCHOOLYARD went Platinum. Sharon, Lois & Bram have sold over 3 million albums and performed throughout North America. Stars of two successful television series, The Elephant Show and Skinnamarink TV, Sharon, Lois & Bram are legendary multi-award-winning superstars.
This brand new IN THE SCHOOLYARD CD release features all the same familiar songs, clapping rhymes, playground games and schoolyard jokes from the original 1981 release plus a bonus coloring page.
From Sharon, Lois & Bram:
This CD is our tribute to the musical life of the schoolyard, where generations of young children have sung and skipped and chanted this timeless, vibrant repertoire.
Awards
* Parents' Choice 2007
* National Parenting Publications Honours Award, 2007
Track Listing
Silly Names And Crazy Gibberish
Fuzzy Wuzzy
Punchinello
Pufferbellies
Ah Si Mon Moine
Betty Botter
Where Is Thumbkin?
Skunk Said, The
You Can't Make A Turtle Come Out
Duchess At Tea, The
Piccolomini
Stone Games
La Bamba
It's A Small World
Love Somebody - A Bushel And A Peck
Un Elefante
Meetin' In The Building
Mommy What If
Matthew, Mark, Luke And John
There Was A Little Man
Tall Silk Hat
Wee Cock Sparra, The
Rattlin' Bog
Woodchuck
Down In The Valley Two By Two
Miss Sue
Way Down Yonder In The Schoolyard