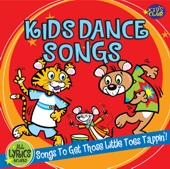 Kids Dance Songs - Music To Get Those Little Toes Tapping! (CD)
Artist: Kids Club Singers
Item Id: tod40572cd
UPC: 777966405728
Manufacturer: St. Clair

Temporarily Out Of Stock
Description
Boogie Woogie anyone???!!!
Dance away and tap your toes with 19 great songs on this CD. Kids dance songs peformed by the Kids club Singers! Includes lyrics booklet and FREE official Kids Club stickers. Perfect for children ages 2-5
Track Listing
The Chicken Dance
Down by the Bay
Old MacDonald Had a Farm
I'm a Little Teapot
Little Red Engine
Little Peter Rabbit
For He's a Jolly Good Fellow
Little Bo Peep
Hokey Pokey
Humpty Dumpty
Sing a Song of Sixpence
Jack-In-The-Box
Ring Around the Rosies
10 Little Indians
Take Me Out to the Ballgame
London Bridge Is Falling Down
Barnyard Song
When the Saints Go Marching In
Do You Know the Muffin Man?