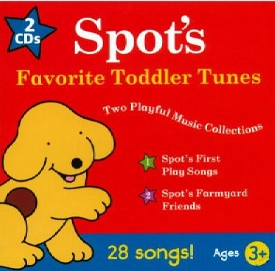 Spot The Dog: 28 Favorite Toddler Tunes - 2 Cd Set (CD)
Artist: Baby Genius
Item Id: gpi31502
UPC: 796019315029
Manufacturer: Genius Entertainment

Temporarily Out Of Stock
Description
SPOT's FAVORITE TODDLER TUNES CD set offers 2 playful music collections:
*Spot's First Play Songs
*Spot's Farmyard Friends
Discover a world of music with Spot, the world's favorite puppy. On these 2 cds, you'll find favorite nursery rhymes to sing along to and a bouncing collection of traditional animal songs which every child should know. Rhythm and rhyme are vital aids to a child's development, and toddlers will love the traditional nursery music on these lively and fun CDs.
28 songs of award-winning music on 2 CDs!!! PERFECT for kids ages 3+
Track Listing
One, Two, I love You
The Alphabet Song
If You're Happy And You Know It
Say, Say, Oh Playmate
Ring Around The Rosey
The Green Grass Grows All Around
Humpty Dumpty
Do You Know The Muffin Man?
Mary Had A Little Lamb
Hickory Dickory Dock
Hot Cross Buns
One, Two, Buckle My Shoe
Skip To My Lou
Pop! Goes The Weasel
Old McDonald Had A Farm
I Bought Me A Cat
Farmer In The Dell
Turkey In The Straw
Did You Ever See A Lassie
Itsy Bitsy Spider
The Ants Go Marching In
Buffalo Gals
Three Blind Mice
Shoo Fly
All The Pretty Horses
Oats, Peas, Beans And Barley Grow
The Fox
Kookaburra