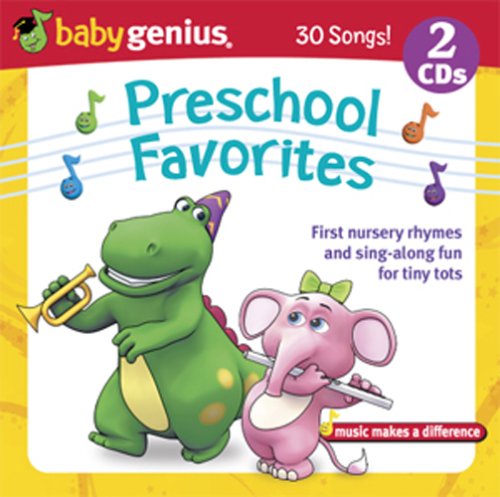 Preschool Favorite Songs - First Nursery Rhymes And Sing Along Fun For Tiny Tots 2 Cd Set (CD)
Artist: Baby Genius
Item Id: pe00132
UPC: 859395001327
Manufacturer: Baby Genius / Pacific Entertainment

Temporarily Out Of Stock
Description
First nursery rhymes and sing-a-long fun for tots!
Here's a terrific collection of children's music to help little ones learn their ABCs, numbers and much more. Love of music starts at an early age and is a fun and exciting way to introduce them to the wonderful world of learning.
Preschool Favorites 2 CD set includes the 30 songs listed below. Over 1 hour of music and fun!
Track Listing
Little Jack Horner/Little Miss Muffet
I Bought Me a Cat
Wheels on the Bus
The Fox
Simple Simon
Skip to My Lou
There Were Six in Bed
There Was an Old Woman
Old McDonald
This is the Way the Ladies Ride
Hot Cross Buns
Jimmy Cracked Corn
Frere Jacques
Apples and Bananas
If You're Happy and You Know It
Hickory Dickory Dock
Over in the Meadow
Pop! Goes the Weasel
Itsy Bitsy ABC
Ta Ra Ra Boom De Ay
Three Little Kittens
All the Pretty Little Horses
Buffalo Gals
One, Two, I Love You
Pease Porridge Hot
A Tisket, A Tasket
The Yodeler
Do Your Ears Hang Low?
The Muffin Man
Head, Shoulders, Knees and Toes
Customer Reviews
Great CD for pre-schoolers! ★★★★★
We played this for our granddaughter and right away she was trying to sing and dance along with the songs. Some of the songs she already knew because she was in day care; this reinforces what she is learning there. What a great product.
By Patty P - Reviewed: 2013-06-13 11:45:08