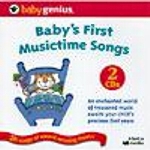 Baby's First Music Time Songs For Learning And Development - 2 Cd Set (CD)
Artist: Baby Genius
Item Id: gpi32182
UPC: 796019321822
Manufacturer: Genius Entertainment

Temporarily Out Of Stock
Description
One of our all-time best sellers - This Original Baby Genius release is sure to be one of the best additions to your child's music collection.
26 songs of award-winning music on 2 CDs!!! PERFECT for infant to 48 months
BABY'S FIRST MUSICTIME SONGS offers timeless, treasured instrumental music for baby's important first years of learning and development. This collection of enchanting nursery rhymes, lullabies and classics will set the tone for a calming and fun-filled day for your little one.
Disc 1: First Nursery Rhymes
Humpty Dumpty
London Bridge
Pop Goes the Weasel
Jack and Jill
The Alphabet Song
Hickory Dickery Dock
Rain Rain Go Away/It's Raining
Little Boy Blue
Mary Had a Little Lamb
Little Bo Peep
Ring Around the Rosey
Pat-a-Cake, Pat-a-Cake
Three Blind Mice
Itsy Bitsy Spider
Disc 2: Lullaby Dreams
Are You Sleeping?
Twinkle, Twinkle Little Star
Lullaby Dreams
Brahms Lullaby
Hush Little Baby
Rock-a-Bye Baby
Golden Slumbers
Now I Lay Me Down To Sleep
Good Night Ladies
The Rockin' Chair
Gaelic Lullaby/Too-Ra-Loo
All Through The Night