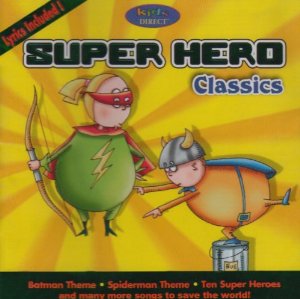 Super Hero Classics (CD)
Artist: Various Artists
Item Id: kd34912
UPC: 779836349125
Manufacturer: Direct Source Special Products Inc.

Temporarily Out Of Stock
Description
Super Hero Classics is a 30 track cd filled with favorites like "Batman Theme", "Spiderman Theme", "Ten Super Heroes" and many more songs with Super Powers! CD includes the lyrics and all songs are repeated for sing-a-long fun with split-track recordings!
Track Listing
Batman Theme
The Super Heroes on the Bus
Spiderman Theme
Save the World
We Will Rock You
This Super Hero's from Krypton
Six Little Heroes
My Little Red Rocket Ship
One, Two, Take Off for the Moon
He'll Be Saving the Whole World When He Comes
I've Been Looking for a Hero
The Boosters on the Rocket
Ten Super Heroes
The Heroes Go Marching
If You're Active and You Know It
Batman Theme
The Super Heroes on the Bus
Spiderman Theme
Save the World
We Will Rock You
This Super Hero's from Krypton
Six Little Heroes
My Little Red Rocket Ship
One, Two, Take Off for the Moon
He'll Be Saving the Whole World When He Comes
I've Been Looking for a Hero
The Boosters on the Rocket
Ten Super Heroes
The Heroes Go Marching
If You're Active and You Know It