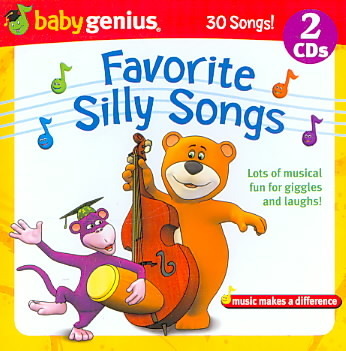 30 Kids Favorite Silly Songs And Sing Alongs - Musical Fun For Giggles And Laughs 2 Cd Set (CD)
Artist: Baby Genius
Item Id: pe35912
UPC: 796019359122
Manufacturer: Baby Genius / Pacific Entertainment

Temporarily Out Of Stock
Description
Kids will jump for joy with this zany collection of musical rhythms and rhymes. Quirky songs about animals, people and other silly stuff make music fun! Fill a child's day with these clever, nonsensical songs that enhance learning skills and help build little vocabularies.
Disk 1: Silly Favorites
Disk 2: Silly Sing Alongs
Over 50 minutes of music and fun. 30 songs on 2 CDs!
Track Listing
Kookaburra
Duke of York
DJ the Dinosaur
Animal Fair
Billy Boy
John Brown's Baby
Waltzing Matilda
Turkey in the Straw
Over the River
While Strolling Through the Park
Scotland's Burning
My Bonnie Lies Over the Ocean
Farmer in the Dell
There's a Hole in the Bucket
Cockles and Mussels
No More Monkeys
The Itsy, Bitsy Spider
The Ants Go Marching
Shoo! Fly, Don't Bother Me
Did You Ever See a Lassie?
Georgie Porgie Pudding and Pie
Three Blind Mice
Down by the Station
Oats, Peas, Beans and Barley Grow
Here We Go Luby Loo
Camptown Races
Man on the Flying Trapeze
Found a Peanut
Polly Wolly Doodle
John Jacob Jingleheimer Schmidt