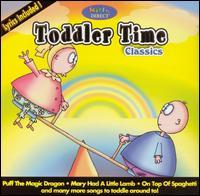 Toddler Time Classics (CD)
Artist: Various Artists
Item Id: kd35862
UPC: 779836358622
Manufacturer: Direct Source Special Products Inc.

Temporarily Out Of Stock
Description
Toddler Time Classics is a 34 CD track filled with favorites like "Puff The Magic Dragon", "Mary Had A Little Lamb", "On Top Of Spaghetti" and many more songs to toddler around to! CD includes the lyrics and all songs are repeated for sing-a-long fun with split-track recordings!
Track Listing
Puff the Magic Dragon
Skin-A-Ma-Rink
Clap Our Hands
Pop! Goes the Weasel
Jack and Jill
Little Red Rocking Horse
The Muffin Man
Hickory Dickory Dock
Mary Had a Little Lamb
Baa, Baa, Black Sheep
Polly Put the Kettle On
Five Little Mice
The Mulberry Bush
Humpty Dumpty
On Top of Spaghetti
This Little Pig
Simple Simon
Puff the Magic Dragon
Skin-A-Ma-Rink
Clap Our Hands
Pop! Goes the Weasel
Jack and Jill
Little Red Rocking Horse
The Muffin Man
Hickory Dickory Dock
Mary Had a Little Lamb
Baa, Baa, Black Sheep
Polly Put the Kettle On
Five Little Mice
The Mulberry Bush
Humpty Dumpty
On Top of Spaghetti
This Little Pig
Simple Simon