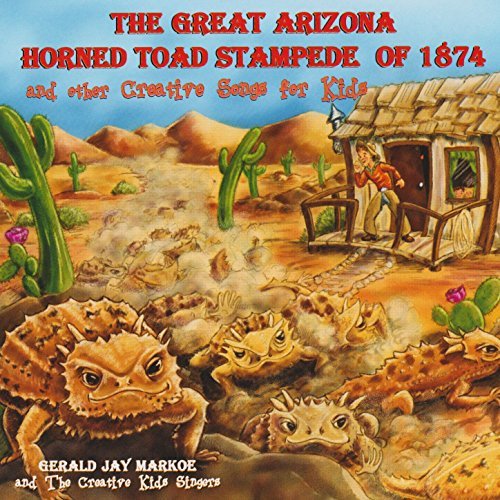 Great Arizona Horned Toad Stampede Of 1874 And Other Creative Songs For Kids (CD)
Artist: Gerald Jae Markoe
Item Id: ckp039
UPC: 092877003925
Manufacturer: Creative Kids Production / Astro Music

Out Of Stock
Description
The Great Arizona Horned Toad Stampede of 1874 reaches new heights in creativity and originality on a children's album. Featuring all new and original sing alongs, act alongs, game songs, story songs and tongue twisters for children to participate in, this album will awaken the imagination, inspire creativity and release stress.
When kids hear these songs and participate, they smile, laugh and their spirits are lifted to the world of unlimited imagination and creativity. The songs hold children's attention and keep them busy. Kids consider these songs VERY COOL, and there is absolutely NO talking down to kids in any way on this CD!
Einstein said, "Imagination is more important than knowledge." These songs are completely original and imaginative in the highest degree.
Track Listing
Great Arizona Horned Toad Stampede of 1874
Peanut Butter and Sardine Sandwich
Do You Wanna Do Something Funny
I'm Busy
Selfish Kid
Halloween Song
You Can't Catch Me
Florida Vacation
Can You Choose Somebody
Little Turtle
Froggie's Underwater Sporting Goods Store
Talking Doorknob