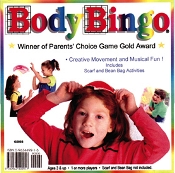 Body Bingo Creative Movement And Musical Fun (CD)
Artist: Kimbo Educational
Item Id: kdc001cd
UPC: 758292000122
Manufacturer: Kimbo Educational

Temporarily Out Of Stock
Description
Body Bingo is a creative movement activity CD designed to stimulate the imagination and improve coordination, balance, and agility. Upbeat songs and easy-to-follow narration challenge students to perform body identification, locomotor and non-locomotor movement skills. Manipulative activities with a bean bag and scarf increase eye-hand coordination and proficiency in catching and throwing. There is no right or wrong way to do these creative activities. Play in an open area with space for moving around, catching and throwing. No physical contact required! Be creative, participate and have fun!
Grades PreK-3, ages 3 and up. 1 or more players
Awards
Parent's Choice Gold Award Winner
Track Listing
Body Bingo Theme Song
Challenges 1-10
Challenges 11-20
Scarf 1-10
Scarf 11-20
Bean Bag 1-12
Bean Bag Toss & Catch
Body Bingo Boogie
Improv Body Bingo
Let's Get Creative
Making Movies
Body Bingo Song Inst.
Free Style Inst.
Customer Reviews
My boy and girl love Body Bingo Creative Movement And Musical Fun ★★★★★
My kids just couldn't get enough of Body Bingo CD. It si fun, educational and provides for a great excersise routine - a much needed component in life of kid's today when obesity and early childhood diseases are abound. A fun workout for kids - FINALLY!! Thumbs up all the way.
By Jackie - Reviewed: 2011-05-01 19:18:45
Great success!! ★★★★★
This product was a huge help in an event that I did with 30 3yr olds. They loved it. I will absolutly be using it again. Thank you!
By Body Bingo - Reviewed: 2010-08-18 07:58:07
Great for music teachers ★★★★★
I recently used this cd with my 1st and 2nd grade students. They had a great time and got a good work out, too! The instructions on the cd are very easy to follow. Kids have to dramatize different animals, toss and catch scarves and bean bags. There is even a freeze dance song at the end that they love, of course!
By Great CD - Reviewed: 2009-07-09 22:52:00