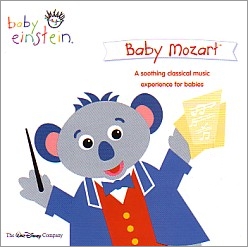 Baby Mozart, A Soothing Classical Music Experience For Babies (CD)
Artist: Baby Einstein
Item Id: dix607707
UPC: 050086077076
Manufacturer: Walt Disney Records / Bue

Description
Studies have shown that listening to Mozart's music can affect verbal ability, spatial intelligence, creativity, intuition and memory. ''Baby Mozart'' was designed to be a gentle, playful introduction for infants to Mozart's music. All of the musical pieces featured on ''Baby Mozart'' were composed by Wolfgang Mozart in the 18th century.
"Classical music to stimualte and delight your baby." This CD is part of a CONCERT FOR LITTLE EARS series, inspired by the music of Wolfgang Amadeus Mozart. Performed by the Baby Einstein Music Box Orchestra
EDITORIAL REVIEW
The Baby Einstein series features definitive pieces from major composers as performed by the Baby Einstein Music Box Orchestra. Baby Mozart represents the classical period, which includes delicate, delightful performances of such pieces as "Piano Sonata in C, K545, 1st Movement," "Variations on Av Vou Dirai-Je, Maman, No. 1, 8 and 11, K265/300e," and "The Magic Flute, K620, Papageno Arias No. 2 and 20." The orchestra's flutes, harps, synths, percussion, and, of course, music boxes offer plenty of musical colors that complement the intricate yet playful nature of Mozart's work. A charming album, Baby Mozart offers many moods and sounds, as well as a creative way to introduce very young children to these timeless melodies. ~ Heather Phares, All Music Guide
CUSTOMER REVIEWS
My daughter, who is now 16 months old, has listened to this cd since she was just a few months. This has become part of our bedtime ritual. My husband or I will pop this cd in, lay her in her crib and read her a book. She enjoys listening to it. But more importantly, she knows that when this music comes on, it's time for bed and that sets the tone for her. Parents will also like this cd. It's very relaxing.
Track Listing
Tune Up And Fanfare - (from "The Magic Flute")
Piano Sonata In C, K545, 1st Movement
Piano Sonata In C, K330, 1st Movement
Variations on "Ah Vous Dirai-Je Maman", No.1, 8, and 11
Piano Sonata in D, K576, 3rd Movement
Concerto For Flute And Harp In C, K299, 1st Movement
Piano Sonata In A, K331, 3rd Movement
Piano Sonata In C, K545, 2nd Movement
Sonata In D For Two Pianos, K448, 1st Movement
Piano Sonata In C, K330, 3rd Movement
Divertmento No.17 in D
Piano Sonata In B Flat, K570, 3rd Movement
Piano Sonata In F, K533, 3rd Movement
Magic Flute, K620, Papageno Arias No.2 And 20, The
Symphony No.41 In C, K551, 4th Movement