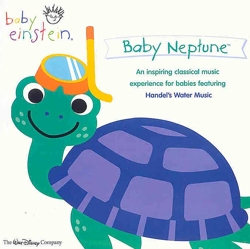 Baby Neptune, An Inspiring Classical Music Experience For Babies Featuring Handel's Water Music (CD)
Artist: Baby Einstein
Item Id: dix007974
UPC: 050086007974
Manufacturer: Walt Disney Records / Bue

Temporarily Out Of Stock
Description
"Classical music to stimualte and delight your baby." The Baby Neptune Concert for Little Ears music CD is an imaginative 22-track, 39-minute concert celebrating the rhythm and motion of water. From the joyous melodies of Handel's Water Music to the timeless flow of Strass' Blue Danube Waltz, great classical compositions will immerse you and your little one in playful musical portraits. The Baby Neptune music CD features some of the classical scores heard in Baby Neptune Discovering Water, and more. Charming water themes from master composers are re-orchestrated for little ears by the Baby Einstein Music Box Orchestra.
EDITORIAL REVIEWS
This aptly named album offers kiddies a delightful taste of Baroque music and pays homage to the water god with pieces that soothe, sparkle, and burble like a rippling woodland stream. Topping the classics are a variety of works from Handel, including eight selections from the "Water Music" Suites, rendered with playful whimsy using light timpani, woodwinds, horns, and a variety of keyboards , including a child's piano. The frothy tones of a harpsichord flavor Telemann's Concerto in A, while the frolicsome sounds of a recorder in the "Water Music" Bourée and castanets in the Harlequinade effervesce like a gentle sea spray. Beethoven's Contradances evoke visions of sunlight dancing on waves, while spirited renditions of a Mozart Nocturne and three vibrant selections from Handel's Music for the Royal Fireworks create an atmosphere of relaxed inspiration. Rounding things out are an ethereal rendition of Debussy's La Mer and the gracefully flowing tones of Strauss's "Blue Danube" Waltz. Music lovers of all ages will enjoy this latest addition to the Baby Einstein family, but be forewarned -- despite the bubbly nature of much of the music, this serene blend of light classical tunes may leave parents as well as babies lapping gently on the shores of blissful slumber. Beth Amos, Barnes & Noble
CUSTOMER REVIEWS
This CD is mandatory in the car and it relax everybody. It has classic music but without many sudden ups and downs. I would like to buy the whole collection next time.
We were given one from these series of CDs for babies and our daughter loves it, so we bought this one. It is a really nice collection of soft music and we usually play it in the car. A great addition to your baby's music collection.
Relaxing!!! I love this CD and would highly recommend it to other mothers. My three month old loves to listen to it before he goes to sleep and during feedings.
Track Listing
Orchestra tune-up (0:27) orchestrated by Weisbach, Bill
Allegro (from Water Music Suite No.1 for orchestra in F major, HWV 348) (1:32) orchestrated by Weisbach, Bill
Bourrée (from Water Music Suite No.1 for orchestra in F major, HWV 348) (1:49) orchestrated by Weisbach, Bill
Passepied (from Water Music Suite No.1 for orchestra in F major, HWV 348) (2:08) orchestrated by Weisbach, Bill
Gigue (from Water Music Suite No.3 for orchestra in G major, HWV 350) (1:37) orchestrated by Weisbach, Bill
Menuet (from Water Music Suite No.1 for orchestra in F major, HWV 348) (2:16) orchestrated by Weisbach, Bill
Alla Hornpipe (from Water Music Suite No.2 for orchestra in D major, HWV 349) (2:15) orchestrated by Weisbach, Bill
Air (from Water Music Suite No.1 for orchestra in F major, HWV 348) (2:04) orchestrated by Weisbach, Bill
Allegro (from Water Music Suite No.2 for orchestra in D major, HWV 349) (1:58) orchestrated by Weisbach, Bill
Excerpt (from An der schönen, blauen Donau (On the Beautiful, Blue Danube), waltz for orchestra (with chorus ad lib), Op. 314 (RV 314)) (1:38) orchestrated by Weisbach, Bill
Excerpt (from Concerto Grosso for strings & continuo in A major, TWV 43:A5) (1:58) orchestrated by Weisbach, Bill
Bourrée (from Wasser Overture, for 2 recorders, flute, 2 oboes, bassoon, strings & continuo in C major ("Hamburger Ebb und Fluth"), TWV 55:C3) (1:53) orchestrated by Weisbach, Bill
Harlequinade (from Wasser Overture, for 2 recorders, flute, 2 oboes, bassoon, strings & continuo in C major ("Hamburger Ebb und Fluth"), TWV 55:C3) (1:33) orchestrated by Weisbach, Bill
Ebb and Flow (from Wasser Overture, for 2 recorders, flute, 2 oboes, bassoon, strings & continuo in C major ("Hamburger Ebb und Fluth"), TWV 55:C3) (1:21) orchestrated by Weisbach, Bill
Contredanse in G major, WoO 14/11 (0:48) orchestrated by Weisbach, Bill
Contredanse in E flat major, WoO 14/12 (2:26) orchestrated by Weisbach, Bill
No. 1 (from Serenade No. 6 for orchestra in D major ("Serenata Notturna"), K. 239) (1:02) orchestrated by Weisbach, Bill
No. 3 (from Serenade No. 6 for orchestra in D major ("Serenata Notturna"), K. 239) (1:56) orchestrated by Weisbach, Bill
Excerpt (from La Mer, symphonic sketches (3) for orchestra, L. 109) (2:25) orchestrated by Weisbach, Bill
Fanfare and Overture (from Music for the Royal Fireworks, for orchestra, HWV 351) (2:10) orchestrated by Weisbach, Bill
Menuet medley (from Music for the Royal Fireworks, for orchestra, HWV 351) (2:06) orchestrated by Weisbach, Bill
La Réjouissance (from Music for the Royal Fireworks, for orchestra, HWV 351) (1:42) orchestrated by Weisbach, Bill