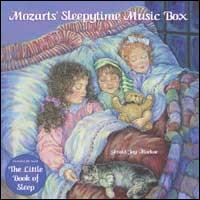 Mozart's Sleepytime Music Box + The Little Book Of Sleep (CD)
Artist: Gerald Jae Markoe
Item Id: ckp035
UPC: 092877003529
Manufacturer: Creative Kids Production / Astro Music

Out Of Stock
Description
Designed especially to help children fall asleep, this CD is a collection of Wolfgang "Amadeus" Mozart's most beautiful slow music, played on bells, music box and celeste.
Kids are irresistibly attracted to bell sounds such as: a music box, sleigh bells, toys with bells, the ice cream man's bell, wind-chimes, pretty doorbells etc. Their attention is drawn and held by the bell sounds playing Mozart's most beautiful slow music. This relaxing music will then lull them into a peaceful, sleep.
Included with the CD is The Little Book of Sleep, a compilation of 54 natural ways to help your child fall asleep. It describes methods to induce sleep through: a) any of the 5 senses: sight, touch, smell, hearing and taste; and b) any of the 4 main centers of energy, physical, emotional, mental and spiritual.
This Final Clearance item will have a small hole punch in barcode - required by the manufacturer for all of it's clearance products.
Different things work for different children and there is something here for everyone.
Track Listing
Piano Concerto No. 21 in C major ("Elvira Madigan") K. 467: Romanze
Piano Concerto No. 20 in D minor, K. 466: Romanze
Serenade No. 13 for strings in G major ("Eine kleine Nachtmusik"), K. 525: Romanze
Divertimento No. 1 for 2 clarinets, 2 horns (or wind ensemble) & strings in E flat major, K. 113: 2nd Movement
Piano Sonata No. 1 in C major, K. 279 (K. 189d): 1st Movement
Symphony No. 40 in G minor, K. 550: 2nd Movement
Violin Concerto No. 3 in G major, K. 216: Adagio in D major
Piano Sonata No. 15 in C major ("Sonata semplice") K. 545: 2nd Movement
Symphony No. 40 in G minor, K. 550: 1st Movement