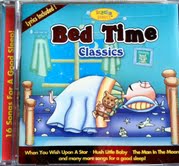 Bed Time Classics - Songs For A Good Night's Sleep (CD)
Artist: Various Artists
Item Id: kd37202
UPC: 779836372024
Manufacturer: Direct Source Special Products Inc.

Temporarily Out Of Stock
Description
Bed Time Classics is a 32 CD track filled with favorites like "When you Wish Upon A Star", "Hush Little Baby", "The Man In The Moon" and many more songs for a good sleep! CD includes the lyrics and all songs are repeated for sing-a-long fun with split-track recordings!
Track Listing
When You Wish Upon a Star
All Through the Night
Rock-A-Bye Baby
The Great Big World
Twinkle, Twinkle, Little Star
Hush Little Baby
Shenandoah
Little Boy Blue
Golden Slumbers
The Man in the Moon
All the Pretty Horses
Tell Me Why
Toyland
Love Somebody
Brahms Lullaby
Little Sleepy Head
When You Wish Upon a Star
All Through the Night
Rock-A-Bye Baby
The Great Big World
Twinkle, Twinkle, Little Star
Hush Little Baby
Shenandoah
Little Boy Blue
Golden Slumbers
The Man in the Moon
All the Pretty Horses
Tell Me Why
Toyland
Love Somebody
Brahms Lullaby
Little Sleepy Head