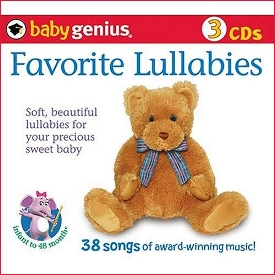 Favorite Lullabies - Infant To 48 Months - 3 Cd Gift Set (CD)
Artist: Baby Genius
Item Id: gpi79212
UPC: 796019792127
Manufacturer: Genius Entertainment

Temporarily Out Of Stock
Description
One of our all-time best sellers - this Original Baby Genius release is sure to be one of the best additions to your child's music collection. Gift packaged in a special hard-shell vinyl case. 38 songs with over 2 hours of award-winning music on this 3 CD Set!
PERFECT for infant to 48 months. Quiet, please - it's sleepy time!
Tender lullabies provide a soothing nursery-calm for precious sweet baby. Favorite symphonic classics, familiar vocal lullabies and beautiful instrumental originals will keep your little one in heavenly bliss. Tuck your dear little baby in a warm blanket, and it's a musical journey into the Land of Nod.
Track Listing
Disc 1: Sweet Baby Dreaming

Lullaby and Goodnight
Are You Sleeping?
Rock-a-Bye Baby
Sweet Baby Dreaming
Baa Baa Black Sheep/Twinkle, Twinkle Little Star
Birthday Dreams
Hush Little Baby
Still, Dark and Quiet
Little Boy Blue
A Little Night Music
Going to Dreamland
All Through the Night

Disc 2: Lullaby Whispers

Say Goodnight – Brahms Lullaby
When You Wish Upon a Star
Scarborough Fair
The Swan Whispers – Saint Saens
Humming Chorus – Puccini
Whispering Lullaby
Dreaming in Aire' – J.S. Bach
Little Angel
Somewhere Over the Rainbow
Peter's Lullaby
Clair de Lune – Debussy
Little One I Love You
Lullaby – R. Strauss
Rock-a-Bye Baby

Disc 3: Lullaby Classics