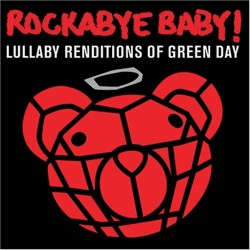 Rockabye Baby! Lullaby Renditions Of Green Day (CD)
Artist: Rockabye Baby
Item Id: 9624
UPC: 027297982321, 027297962422
Manufacturer: Baby Rock Records

Temporarily Out Of Stock
Description
Each release in the Rockabye Baby! series takes the best-known songs of a particular artist and places them in a lullaby processor that involves chimes, bells, and vibraphones -- renditions that are slightly more involved than the music that comes out of the average baby mobile. Whether the original versions are heavy and aggressive or light and subdued, these lullaby versions are uniformly appropriate for their purpose. And, in some cases, they even happen to tease out an unlikely amount of melodicism not apparent in the originals.
Do cries in the night make you a basket case? If a rambunctious baby is turning you into an insomniac, Green Day's anthems about dookie and shenanigans can help make sweet children. Say good riddance to a cranky baby. Welcome to paradise.
EDITORIAL REVIEW
Perhaps in response to the growing number of new parents who spent their youth listening to punk, Rockabye Baby! Lullaby Renditions of Green Day (just one of many in the collection) remakes some of the trio's biggest hits using gentle, calming, sleep-inducing percussion and keyboard instruments (vibes, glockenspiel, etc.) instead of the more raucous combination of guitar, bass, and drums. Clearly this is an album meant more for the amusement of the parents, looking for a bit of respite from "Mary Had a Little Lamb," than for the actual musical enjoyment of the child -- but since the versions of "Basket Case," "When I Come Around," and "American Idiot" are soothing enough in their own strange way, it just might do the trick. Marisa Brown, All Music Guide
CUSTOMER REVIEWS
My 5 month old niece was so intrigued by this music she immediately stopped crying, and by the end of the first track was on her way to sleep. Plus it's great being able to play music around the house that both of us liked.
Awards
iParenting Media Award Winner - "2007 Greatest Product" Award