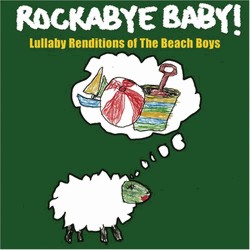 Rockabye Baby! Lullaby Renditions Of The Beach Boys (CD)
Artist: Rockabye Baby
Item Id: 9613
UPC: 027297961326
Manufacturer: Baby Rock Records

Temporarily Out Of Stock
Description
Each release in the Rockabye Baby! series takes the best-known songs of a particular artist and places them in a lullaby processor that involves chimes, bells, and vibraphones -- renditions that are slightly more involved than the music that comes out of the average baby mobile. Whether the original versions are heavy and aggressive or light and subdued, these lullaby versions are uniformly appropriate for their purpose. And, in some cases, they even happen to tease out an unlikely amount of melodicism not apparent in the originals.Rockabye Baby! transforms timeless rock songs into beautiful instrumental lullabies. The soothing sounds of the glockenspiel, vibraphone, melltoron and other instruments will lull your little baby into a sweet slumber.
The Beach Boys provided the soundtrack to fun in the sun and endless summers. Generations of fans have grown up with their enduring music hits and singles. Rockabye Baby! has translated The Beach Boys enchanting harmonies into shimmering lullabies that will help your little baby drift to a sound sleep after a dayís worth of sun-soaked play. Donít worry, baby. These instrumentals are fun, fun, fun.
CUSTOMER REVIEWS
I got this CD as a gift when I was pregnant and thought it was pretty goofy. In fact, I don't particularly care for the zylophone music on the CD, it gets a bit annoying without the lyrics. But now that it has hushed my little one up on all of 10 occassions without fail, I'm a big fan of it! If she's crying in the car, I just pop in the Rockabye Baby CD and she automatically hushes up! No other sound has this profound an effect on her. It's almost eerie how automatic her hushing is upon hearing the music. I highly recommend this CD for anyone with a new infant.