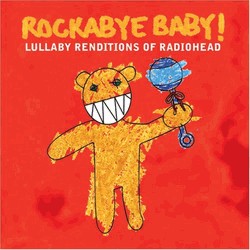 Rockabye Baby! Lullaby Renditions Of Radiohead (CD)
Artist: Rockabye Baby
Item Id: 9603
UPC: 027297960329, 027297980020
Manufacturer: Baby Rock Records

Temporarily Out Of Stock
Description
Each release in the Rockabye Baby! series takes the best-known songs of a particular artist and places them in a lullaby processor that involves chimes, bells, and vibraphones -- renditions that are slightly more involved than the music that comes out of the average baby mobile. Whether the original versions are heavy and aggressive or light and subdued, these lullaby versions are uniformly appropriate for their purpose. And, in some cases, they even happen to tease out an unlikely amount of melodicism not apparent in the originals.
Radiohead weave worlds of incredible sounds, design, and imagery. Lush arrangements combine with epic performances. The charming recordings on this album are sophisticated enough for everyone to enjoy and gentle enough for the youngest listener. What will your baby dream about while drifting off to these serene interpretations of Radiohead's best-loved songs?
CUSTOMER REVIEWS
It's genius is in the fact that this can be played in a children's room to help them sleep as it is quite soothing and infantile in typical lullaby fashion. but best of all you can stay in the room with your child and not have the urge to blow your brains out to a crappy predictable lullaby from the 'Play-school company over and over and over again. I can listen to this and enjoy it many time's. Get it if you are also ready to choke the stuffing out of mickey and Disney Babies: Lullaby and the such. I have also noticed that there are lullaby versions of Nirvana and Coldplay which I will also be getting. now if they will just release that Motörhead lullaby I'll be set!
This is a great thing! Finally a lullaby cd that my husband and I like to listen to as much as our little girl does. Radiohead's haunting melodies work really well on the glockenspiel and vibraphone. Everytime we put it on our baby gets really excited and starts dancing and the music doesn't drive us nuts like other children's cds. I would recommend this to parents and even Radiohead fans that aren't parents. I could listen to it all day.
I got the Radiohead and Cure Rockabye Baby CDs before my daughter was born. I thought at best they'd be a novelty but I'm very pleasantly surprised. They're not meant to be amazing interpretations of these songs - they're lullabyes for a baby. My baby is actually soothed by the songs and they're such a great alternative to Brahms and other typical baby lullabyes. Two of these Rockabye Baby CDs are plenty - I created a playlist of lots of quiet mood music (Air, Beatles, Elliot Smith, etc) just for the baby and that works just as well. No need to get the whole collection when there's plenty of everyday music that can be used in the nursery.
this cd is awesome for everyone. I like it, my wife likes it, and our baby sleeps like charm when we put it on at nap time. radiohead is the perfect band for these conversions, instruemental works well.
This is a hauntingly beautiful album. It sounds like it could be the soundtrack of a well crafted P.T. Anderson film. I am a huge Radiohead fan, but I think I can unbiasedly say that if you want some very intersting music (not just for the kiddies) then check out this CD. It beats riding in a car listening to Barney.