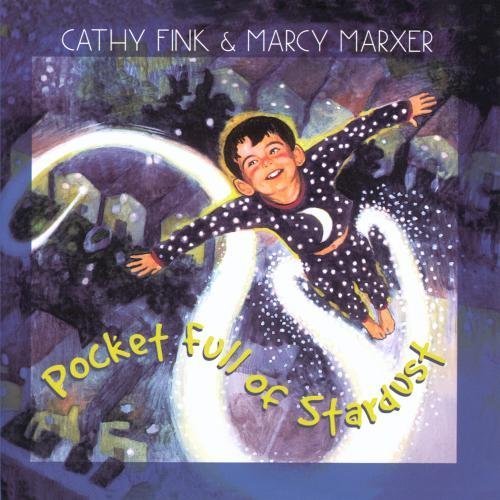 Pocket Full Of Stardust - Artful Music With Bedtime & Rest Time Themes (CD)
Artist: Cathy Fink / Marcy Marxer
Item Id: rocd8089
UPC: 682161808925
Manufacturer: Rounder Kids

Description
"A lovely mix of acoustic tunes. Sophisticated arrangements in this recording means that adults can enjoy the CD as much as kids."
Full of Stardust is a collection of new songs that combine playful and artful music with themes that surround bedtime and rest time. It completes a trilogy that includes two GRAMMY nominated recordings, Blanket Full of Dreams and Pillow Full of Wishes. Pete Seeger said his children called lullabies "night time propaganda" songs. On Pocket Full of Stardust, Cathy & Marcy play a bit, laugh a bit and eventually sneak into a mood for snuggling, stories, wishes and dreams. Sixteen original songs in wide variety of musical styles and a wonderful children's ensemble will help you sprinkle your "Pocket Full of Stardust" anytime, anywhere. Cathy Fink & Marcy Marxer are multi-GRAMMY finalists with awards for their children's and family music from The Parents' Choice Foundation, The Oppenheim Toy Portfolio, American Library Association, Early Childhood News and the Washington Area Music Association. Their live performances have set the standard for family participation and fun, and their recordings have inspired kids, parents, grandparents, teachers and friends to sing together and enjoy the magic of music.
This Final Clearance item will have a small hole punch in barcode - required by the manufacturer for all of it's clearance products.
Track Listing
Rhythm of the World, The
Silliest Dream, The
Countin' Cars on the Sleepytime Train
Pocket Full of Stardust
Water, Sun, Earth and Sky
Jiggle and Tickle
Who's Been Sleepin' in My Bed?
I Got Pajamas
Sail Away Together
Thank You
Good Night Serenade
Counting Stars / Every Little Star
Talkin' to My Teddy
Pocket Full of Stardust - (Reprise)
Whispers
Wish For Tomorrow
Customer Reviews
Pocket Full Of Stardust ★★★★★
This CD sounded great for young grandchildren. They seem to be enjoying the CD.
By Sandy - Reviewed: 2013-01-23 22:53:07