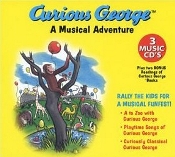 35 Songs Of Curious George - 3 Cd Box Set - A Musical Adventure (CD)
Artist: Curious George
Item Id: gpi30622
UPC: 796019306225
Manufacturer: Genius Ent.

Temporarily Out Of Stock
Description
Get this amazing music CD set before it's gone for good. This award winning CD set is now out of print.
Rally The Kids For A Musical Funfest!
There will be no mischievous monkey-shines when kids get wind of this exciting, adventure packed collection of songs for Curious George. George's favorite funny tunes, clever originals, classic melodies, plus two special readings of Curious George books are sure to keep youngsters in a curiously happy and contented, play day mood. 35 Exciting songs on 3 CDs. So rally the kids - the musical funfest is about to begin!
Disk 1: A to Zoo with Curious George
Disk 2: Playtime Songs of Curious George
Disk 3: Curiously Classical Curious George
Track Listing
"Curious George Visits the Zoo" (special reading of the book)
A To Zoo Song
The Lion Sleeps Tonight
Jungle Of George
No More Monkeys!
Yes! We Have No Bananas
Song Of The Zookeeper
Bears, Birds and Buffalo
The Animal Fair
Alligator Rock
Head, Shoulders, Knees and Toes
Trouble's My Name
Apples and Bananas
Say, Say, Oh Playmate
Curious = Mischievous
A Bicycle Built For Two
One, Two, Buckle My Shoe
Unpredictable
Here We Go Luby Loo
B-I-N-G-O
"Curious George" - A special reading of the original book
Golliwogg's Cakewalk
The Old Bear with A Sore Head
Contredanses No. 4
The Golden Wedding
Curious Story
Contredanses No. 2
Jimbo's Lullaby
Flight of the Bumblebee
Contredanses No.
The Elephant
Sicilienne
Knight of the Hobby Horse
Contredanses no. 3
Goblin Dance